Work life balance tra limiti istituzionali e pratiche innovative
Work Life Balance, Institutional Limits and Innovative Practices
Giovanna Campanella

Università degli Studi Guglielmo Marconi

Luisa De Vita

Università Sapienza
Abstract [ita]
Come rispondono le politiche di conciliazione cura-lavoro alle esigenze delle lavoratrici e dei lavoratori di nuova generazione: sempre più precari, poveri e instabili dal punto di vista reddituale e/o professionale? Con un sostanziale immobilismo politico. Questo è il quadro che viene fuori da una rassegna delle principali politiche sociali italiane volte a supporto della genitorialità e alla garanzia dell'occupazione femminile. Il contributo mette in luce i limiti di tali politiche e coglie gli aspetti innovativi di pratiche che si sviluppano dal basso. Al contempo, una riflessione al margine lascia aperta una importante questione sul rapporto tra flessibilità e conciliazione, ovvero tra organizzazione del lavoro e tempi di cura per la famiglia. Nell'era della rivoluzione digitale, individuamo forti resistenze al cambiamento, sia da parte delle istituzioni, ma anche e soprattutto dal mondo produttivo, che vanta si modelli "agili" di forme di lavoro da un punto di vista formale (vedi il lavoro agile/ smart working) ma che dal punto di vista sostanziale rimane radicato a modelli di contrattazione standar che non agevola né la condizioine lavorativa da un punto di vista di tutele né la conciliaizone cura lavoro e quindi l'occupazione femminile.
Abstract [eng]
In this paper, through an analysis of the work life balance policies we try to study how Italy currently facing the needs of care of the new generations of workers. In an increasingly flexible labor market in which workers are less protected, the strengthening of work life balance policies is a central issue for employability. The data analysis, however, shows a substantial immobility of public action, while on the opposite seems to be in place a certain activism "from below. After the analysis of the current work life balance policies this paper attempts to analyze the new responses put in place, especially by companies, to support workers. In the era of digitalization if new forms of flexible working time are developed (smart working), strong doubts remain about the possibility for these practices to solve both the problem of care and female employment. The implications and bounds of these practices will be discussed.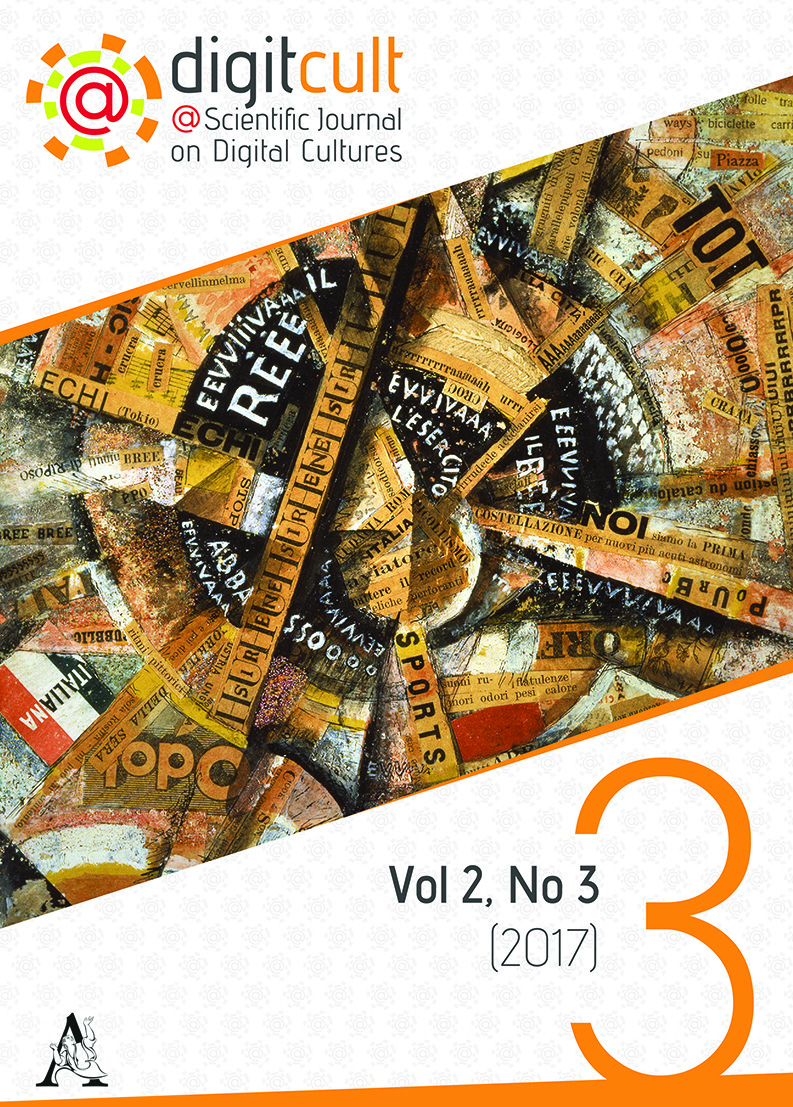 This journal provides immediate open access to its content on the principle that making research freely available to the public supports a greater global exchange of knowledge.
DigitCult is published under a Creative Commons Attribution Licence 3.0.
With the licence CC-BY, authors retain the copyright, allowing anyone to download, reuse, re-print, modify, distribute and/or copy their contribution. The work must be properly attributed to its author.
It is not necessary to ask further permissions both to author or journal board.