Pratiche di lettura nello spazio della biblioteca
Il contesto del progetto Reading(&)Machine
Reading practices in the public library space
The context of Reading(&)Machine project
Abstract [ita]
Questo articolo propone alcune considerazioni che riguardano i contesti entro i quali si situa il progetto Reading(&)Machine, sviluppato in collaborazione tra centri SmartData@Polito e VR@Polito del Politecnico di Torino, Dipartimento di Studi storici dell'Università di Torino e Biblioteche Civiche Torinesi. Reading(&)Machine si basa sulla elaborazione del contenuto informativo dei dati prodotti dalle biblioteche, e di ulteriori tipologie di dati, provenienti dalla piattaforma di social reading aNobii e generati direttamente dagli utenti, utilizzati per promuovere ed arricchire l'esperienza della lettura, nella specificità dell'ecosistema simbolico ed informativo della biblioteca pubblica. I suggerimenti prodotti dal sistema di raccomandazione verranno resi disponibili in un ambiente immersivo di Realtà Virtuale. L'articolo prende in esame due aspetti particolare di questi contesti. Il primo è riferito alle relazioni tra spazio digitale del progetto e configurazione dello spazio della biblioteca, all'interno del quale il prototipo verrà disposto. Il secondo riguarda le modalità e le fasi della scelta di lettura, in cui si integrano suggerimenti prodotti dalle macchine e dai segni comunicati dallo spazio bibliotecario.
Abstract [eng]
This article proposes some considerations regarding the contexts of Reading(&)Machine project, developed in collaboration between SmartData@Polito and VR@Polito centers of the Polytechnic of Turin, Department of Historical Studies of the University of Turin, and Turin Civic Libraries. Reading(&)Machine is based on the processing of information content of data produced by the libraries, and of other types of data, coming from the social reading platform aNobii and generated directly by users, used to promote and enrich the reading experience, in the specificity of the symbolic and informative ecosystem of the public library; the recommendations produced will be made available in an immersive Virtual Reality environment. The article examines two particular aspects of these contexts. The first refers to the relationship between the digital space of the project and the configuration of the physical space of the library, within which the prototype will be placed. The second specifically concerns the methods and phases of the choice of reading, in which suggestions produced by the machines and signs communicated by the library space are integrated.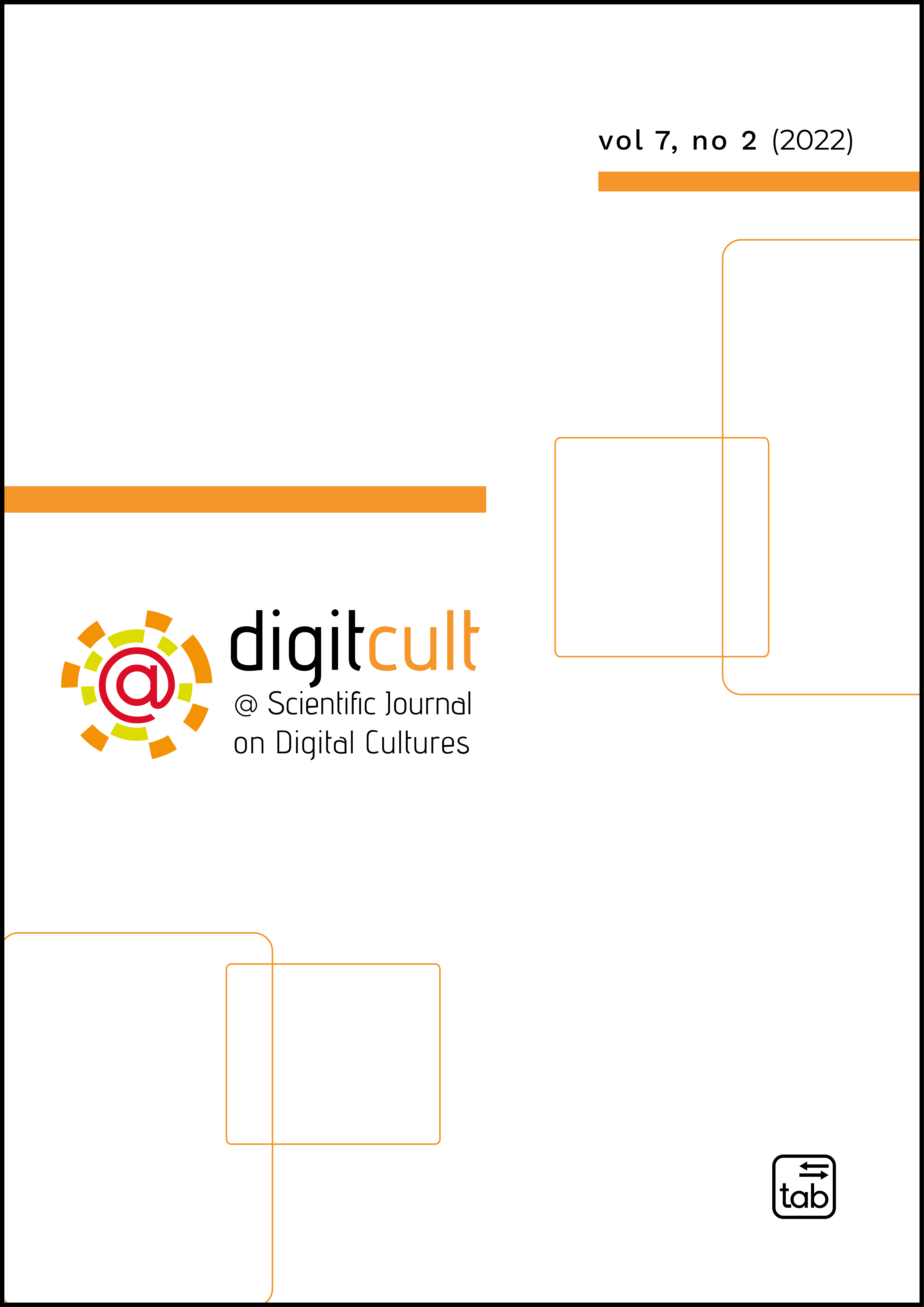 This journal provides immediate open access to its content on the principle that making research freely available to the public supports a greater global exchange of knowledge.
DigitCult is published under a Creative Commons Attribution Licence 3.0.
With the licence CC-BY, authors retain the copyright, allowing anyone to download, reuse, re-print, modify, distribute and/or copy their contribution. The work must be properly attributed to its author.
It is not necessary to ask further permissions both to author or journal board.